Keep track of bugs and feature requests using chat tags
Keep track of bugs and feature requests using chat tags
By Jitta Rao
updated 12 days ago
When you are talking to customers on live chat, you will come across instances where you would need to note something down - whether it is user feedback, bug reports, feature requests, a promise that you make for the future, an offer that you propose, etc.
Instead of adding these messages or ideas to an excel sheet or a task management tool like Trello, with Gist you can tag such messages and keep track of them inside Gist. This will allow you to keep everything in one place where you and your entire team can view them together.
Your support team can select individual messages within a conversation and add specific tags to them based on what they're referring to. This will allow them to not only resolve the issue or answer the question but also to keep track of what is being said and what they received from users in the form of feedback.
- Your product team would love to have a list of bugs that they can fix instantly, or get feedback from users to learn about the impact their recent bug fixes or product updates have had.
- Your customer success team would be happy to have a list of areas or points where people are getting stuck or confused because they can use that information to better onboard your users.
- Your sales team would benefit from understanding what the top most frequently asked questions about your product or plans are, so they can address them in their sales calls or meetings. Your marketing team can use this information to craft better copy.
By tagging your messages and sharing your findings, you can make sure the right feedback is available to the right people in your company. As you keep adding tags to more and more conversations you and your team will, over time, have enough data to understand where your product can be improved, or what features to focus on building in the next cycle.
It is important that you and your team have an internal discussion to figure out the tagging convention that you're going to follow because that would help avoid confusion and streamline your feedback so everyone on your team is on the same page. You can always edit and delete tags later on.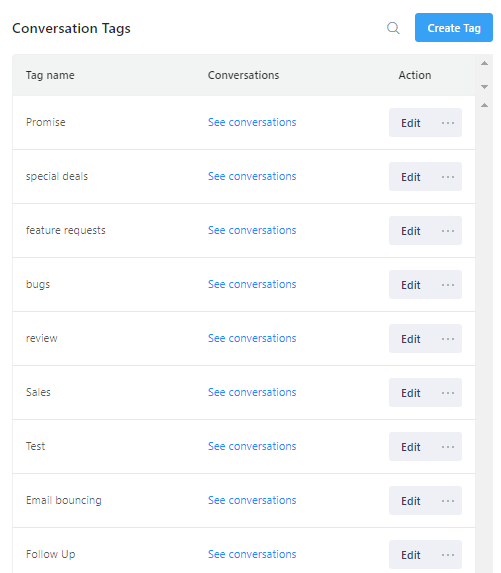 Here are some use cases to help you understand the best practices when it comes to adding tags to chat conversations:
Bug Reports
This is the most popular tag that you'll have on your project. Because every product has some bugs or the other, there are plenty of reasons for your users to report bugs and issues everytime you launch a new product or release a new update to it. Adding a tag to every bug report you receive on chat is a great way to keep track of all issues.
This tag will also be helpful in tracking down all related conversations whenever a bug is fixed, so your support team can reach out to your customers to and update them about the same and followup on the issue. This not only delights the customer but also restores faith in your team. You can always mark such conversations as 'Pending' so you can come back later to respond.
Feature Requests
There will most often be instances where customers ask your support team for features that you currently do not have. Your product team would want to know what feature requests are coming in, and what promises have already been made by the support team to your users, so they can verify the product roadmap and let you know if they're already working on them and if there is an ETA for the feature request to be fulfilled. It will also help them to add new requests to the product roadmap and work on them.
Product Feedback
You can tag specific conversations that you have with your churning customers so you can let the team know where the leaks lie so they can fix them and prevent future churns. If you identify that a decent number of customers are leaving because a feature is missing, or because there are too many features that makes the whole product bloated, or if it all feels a bit too complex for people without the tech know-how. You could always reach out to a churning customer and ask them for feedback and understand why they're leaving your system. This feedback can be used by all teams - product, sales, marketing - to improve the overall customer experience.
Postive Feedback
When a user tells you that they liked something about your product - such as a feature, or the design, or any other aspect - you can tag that message so the respective teammate can look into them and understand what's really working, so they can focus on doing more of that.
These are a few examples that you might find useful to begin with. But you can always discuss with your team and come up with your own tagging convention.
---
Need Help?
If you have any further questions, please start a Live Chat. Just "Click" on the Chat Icon in the lower right corner to talk with our support team.
Did this answer your question?