Customize Live Chat Appearance
Customize Live Chat Appearance

By Jitta Rao
updated 6 months ago
---
You can customize the Gist messenger to match your brand, and we certainly recommend that you do so.
You can change the color of the button and the messenger widget in the settings tab. Note that the color of your conversations will also change. For example, if you choose the color black, your messenger will be all black.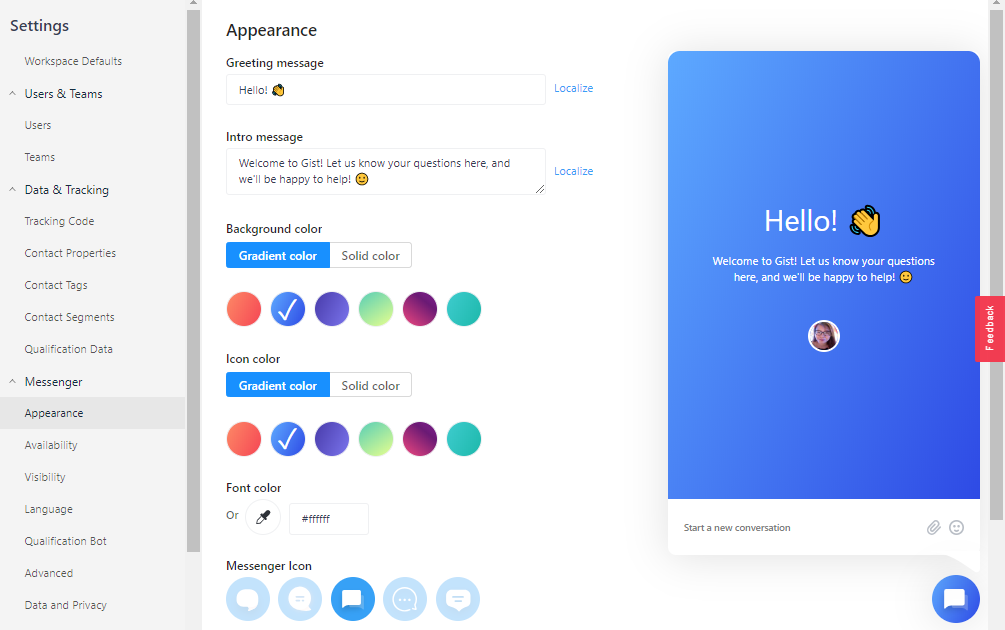 You can choose from a huge variety of solid and gradient colors to make your chat widget stand out and attract visitors. Make sure the color of the chat widget contrasts well with the background used on your website, so people can see it clearly and get in touch with you.
You can preview the changes you make right there, and modify the settings if you want.
You can also customize the Gist Messenger by:
1. Choosing to enable or disable the chat entirely, and
2. Editing the default text that appears when users click on the messenger on your site.
3. Changing the chat messenger icon that you wish to be shown on your website.
We recommend you to urge users to give you their email address to encourage more conversions. The default text already does this, but you can make changes to the text to suit your tone and style.
---
Need Help?
If you have any further questions, please start a Live Chat. Just "Click" on the Chat Icon in the lower right corner to talk with our support team.
Did this answer your question?