Gist makes interacting with your site visitors easy, simple and automated! Using Gist, you can set up Chat Bots that have several different uses. In these examples, we will set up a Chat Bot that qualifies leads and books meetings 24/7 for your sales team so they can connect with those who are most likely to buy.
To create a custom bot, head to Marketing > Messages > Bots and click the New Bot button. Give your bot a name.
Setting up a ChatBot is straightforward and fun. For this, we're going to use the chatbot builder.
With this simple drag-and-drop visual tool, we promise three things:
You will create personalized chatbots that match your business
You will get them up and running in less than 5 minutes
Welcome message
The welcome message is the first message your visitors will see. This is a multiple-choice question your visitors can respond to. For example, if you're creating a sales bot to help you qualify your leads, you could ask something like this: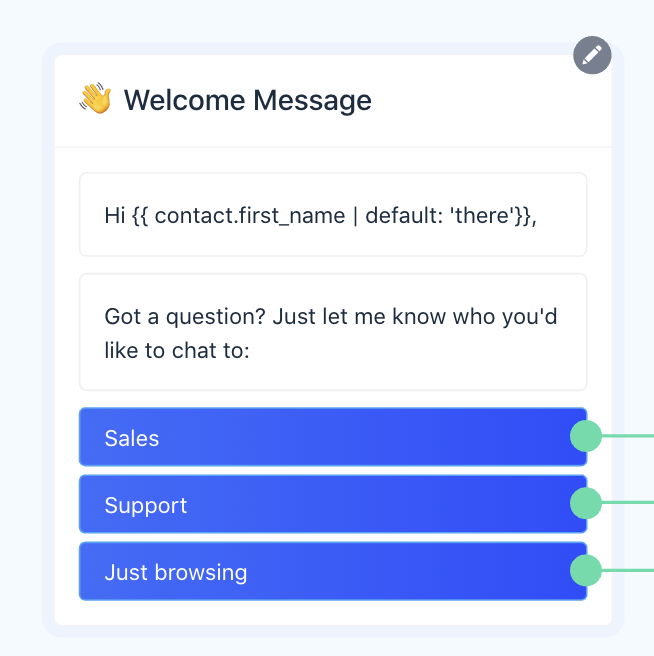 The welcome message is a fairly flexible block allowing you to incorporate text messages, media messages such as images, gifs, videos or files, and buttons.
To edit it, click on the pencil icon on the top-right corner of the welcome message block (hover over the block to see the icon).
In the Welcome message panel that opens on the right, enter a message, add/edit the buttons and then click Done.
Add Your First Sequence
To add a new sequence to your welcome message, drag and drop the desired block on the left side panel.
Questions
There are five different question blocks:
Automations
Tag contact
Route conversation
Close conversation
Set contact property value
Choose Your Display Conditions
On the Display Rules tab, you can decide when and where the bot will display on your website pages. You can display a bot when a visitor is on a specific page URL, or based on known information about your visitors. You can also combine the targeting options to create a tailored, personalized experience for visitors to your site. Learn more about the different targeting options and targeting rules you can use with your chatbots.
To show the bot when a visitor is on a page for more than 5 seconds and has viewed at least three pages on your website, you can use the following display rules: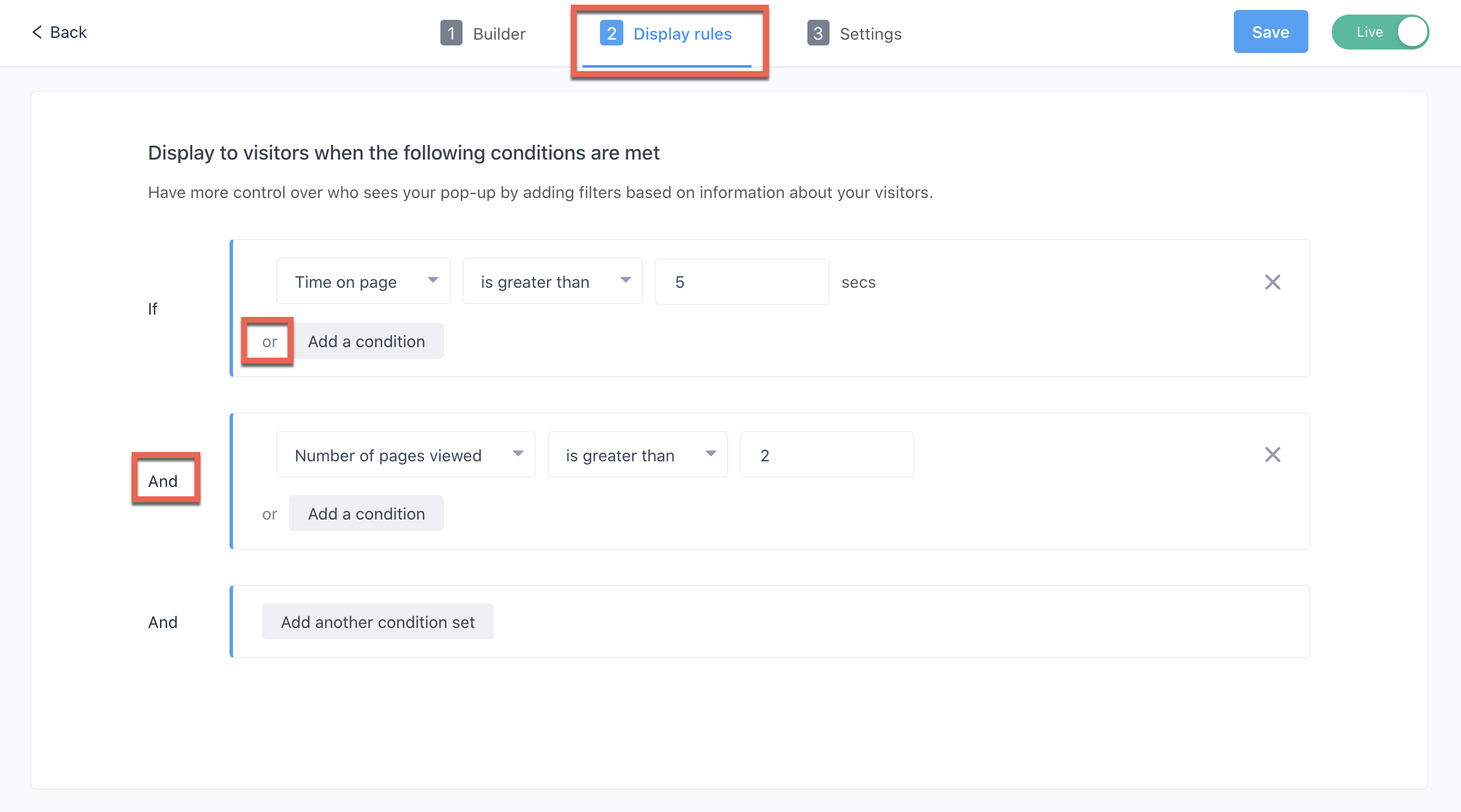 Triggering a Chatbot on Button Click
When building a chatbot, under Targeting, you can create a unique Gist Link. For example - example.com/#chatbot.
Once you create the GistLink for the chatbot and click on the Enable toggle on your website, if you have a button "Click Here", you can set the redirect path for that click here button to the Gist Link - "http://example.com/#chatbot".
Now, once the page loads, the chatbot will be triggered.
When your bot is live on your website pages, visitors can start a conversation with the bot. You can then view and respond to incoming messages in your conversations inbox or analyze your bot's performance.
---
Need Help?
If you have any further questions, please start a Live Chat. Just "Click" on the Chat Icon in the lower right corner to talk with our support team.