Install Gist on your WordPress site
Install Gist on your WordPress site

By Jitta Rao
updated 3 months ago
You can install Gist on your WordPress site without ever having to deal with code. Just install the Gist WordPress plugin, add your Workspace ID, and it's done!
Here's the simple process of setting up the plugin.

Step 1: Install the plugin
The first step is to install the WordPress plugin in your WordPress account.
Step 1: On the "Add Plugins" page of wordpress, search "Gist"
Step 2: "Click Install." The box will update. "Click Activate"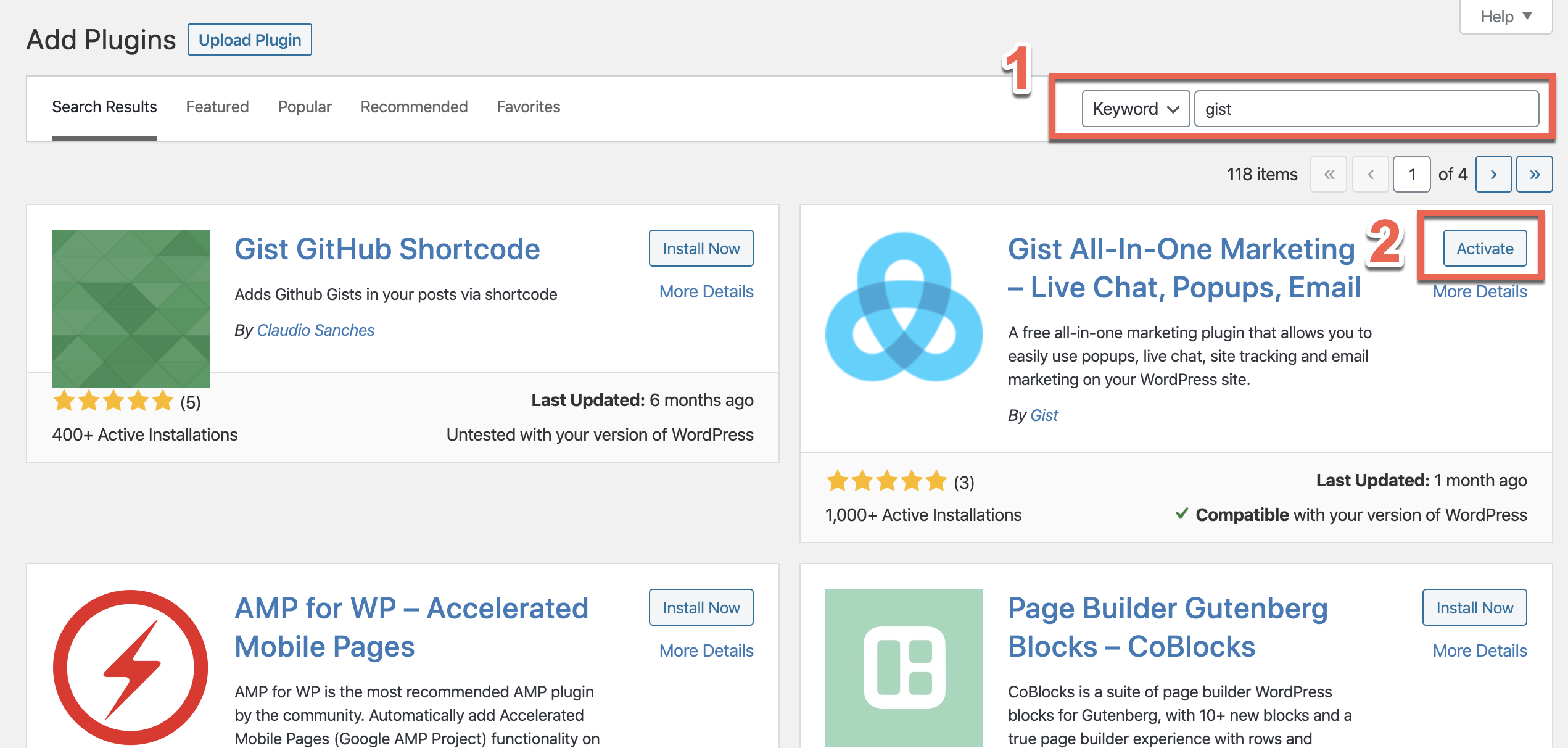 Step 2: Copy your Gist workspace ID
Once you install the WordPress plugin, sign into your Gist account.
1. Go to the Settings tab on the right side of the navigation menu.
2. Click the 'Tracking Code' button.
3. Copy your Workspace ID and paste it into the Gist WordPress plugin settings.
This will allow the plugin to access Gist securely.
You can also access your Workspace ID in the URL itself. If you look at the alphanumeric code after 'https://app.getgist.com/projects/', that is your Workspace ID.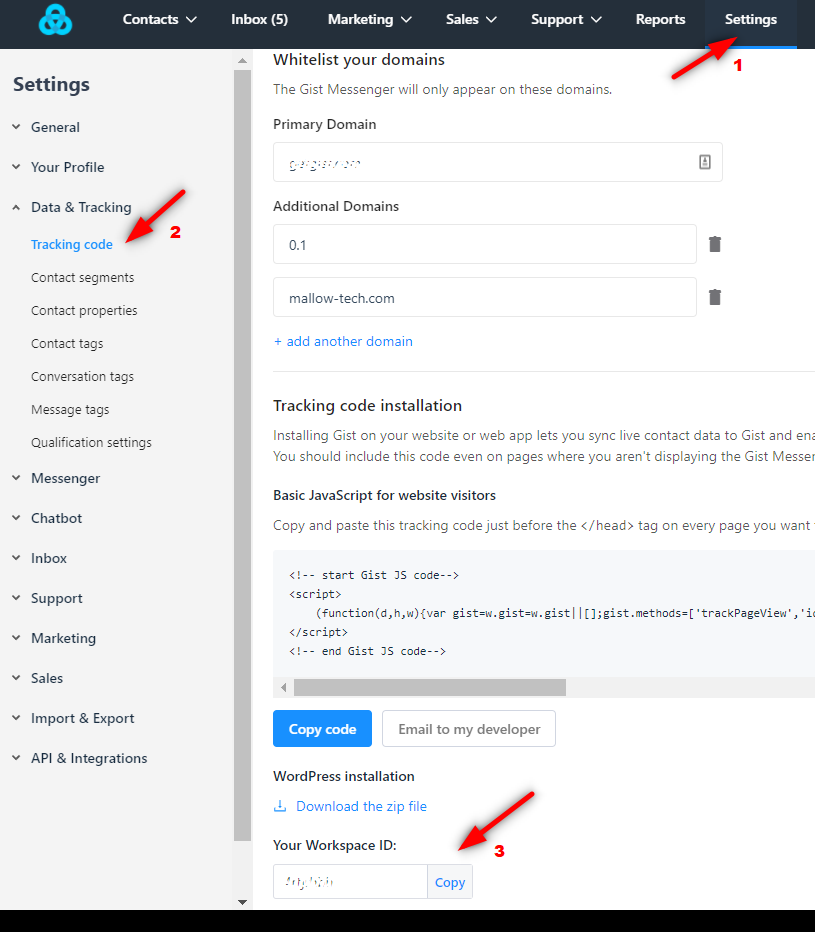 Step 3: Paste your Workspace ID in your WP plugin
Then back inside your WordPress admin dashboard, go to Settings > Gist.
1. Paste or type in the Workspace ID that you secured from your Tracking Code page.
Once you enter your Workspace ID here, you will need to check the boxes as required.
2. If you want to track all pages on your site, then check the 'Enable Tracker' box.
If you want to disable chat for WordPress admin users, then check the second box.
If you are already using a WordPress plugin such as MemberPress for your members/users, and if you want Gist to automatically identify your users without using the gist.identify method, then check the final box.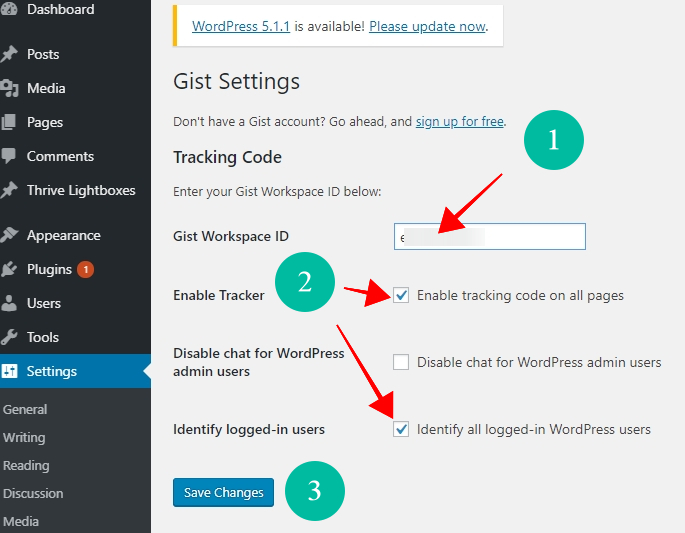 3. Click 'Save Changes'
Step 4: Invite Your Teammates
Having more teammates on Gist helps you manage your sales, marketing and customer communication efforts better, and helps your entire team send out a uniform message to your users,
If you wish to add or delete a teammate on Gist, you will go to the settings page.
Once you're there, select the 'Teammates' option under General.

If you wish to add a new teammate, you will have to invite them to sign up on Gist. In the text box, enter the email address of your teammate, select the appropriate permissions you would like to give them, and then click on 'Invite'.

Gist will then send an invite link to the email address of your teammate, so they can sign up on Gist and start using it immediately. Your teammate will be automatically added to the Workspace that they are invited to.
If your teammate has not received any invitation email from Gist, they can as well create an account on Gist and they will automatically be added to the Workspace that they are invited to.
If you wish to delete a teammate who is already on Gist, go to the 'Teammates' page once again and click the 'Delete' button next to the appropriate teammate.

From this page you also have these options:
Transfer Ownership of the Workspace to another user.
Show or hide a user's profile on Gist Live Chat.
Grant or takeaway access to their account.
Note that when a teammate is removed from Gist, all future communication from users directed towards them will go to the 'Unassigned' thread and other teammates can assign the conversation to themselves manually.
All previous conversation history is preserved and view-able by other teammates, and anyone else on your team can respond to the same thread and continue conversations.
---
Need Help?
If you have any questions, start a Live Chat. Just "Click" on the Chat Icon in the lower right corner to talk with our support team.
Did this answer your question?