Capturing Emails Using Live Chat
Capturing Emails Using Live Chat
By Jitta Rao
updated 11 days ago
Gist's messenger can be used as not only a chat tool but also as a lead gen tool.
Because Gist also includes a powerful user tracking tool, you can use it to understand your visitors, leads, and users on a more detailed level.
When an unknown visitor lands on your website, they can start talking to you right away, using the live chat messenger. Gist automatically identifies them if they are already registered on your site as a user, or if you already have their lead info either through CSV upload or through one of our lead forms.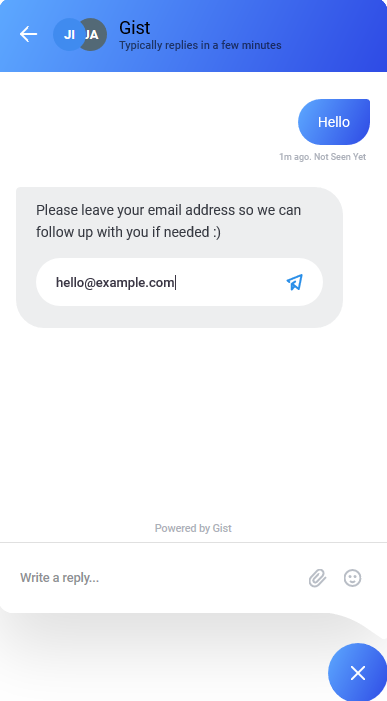 If Gist is unable to identify who the visitor is, it will automatically prompt them to enter their contact information. If it is an old user, then Gist matches their profile with the existing user profile attached to that email address.
But if it is a new contact, then Gist will capture their email address and add them to your People page automatically. This helps ensure you and your team never lose touch with a new lead and can keep the conversation going even if they leave your website in between.
You do not have to set anything up to enable this functionality - Gist does this by default.
You can then use the email addresses you collect over chat and do with them as you like - add tags to them, add them to specific user segments, trigger automatic emails, broadcasts, drip sequences, etc.
Use chat prompts to collect emails proactively
With Gist, you do not have to wait until your users and visitors reach you - instead, you can increase conversions by setting up chat prompts so that there's a greater chance of someone replying to your prompt.
As soon as someone responds to your chat prompt, they will be asked to add their email address.
To help increase conversions, you can incentivize visitors to give their email, by offering them something valuable in return. For example, a link to a webinar you're hosting or other exclusive content, such as an ebook. (Coming soon)
If a lead doesn't leave their contact information in the box provided, you can always talk to them, give them what they're looking for, and then ask them for their details, so you can follow up and continue the conversation. You could then send them a relevant blog post or a discount code, for example.
If someone gives you their contact details separately and does not add it to the box, but you learn their details later on, you can always go to their live user profile, and add/edit the details yourself.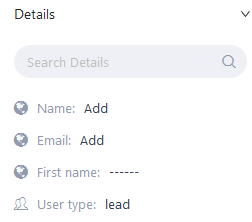 It is easy to set up a chat prompt on Gist. You can visit the Settings page and choose what message to send your users when you're not around.
Go to Settings > Messenger > Chat Prompts In the Settings page, click on the 'Appearance' button, and you'll be able to customize the chat email text.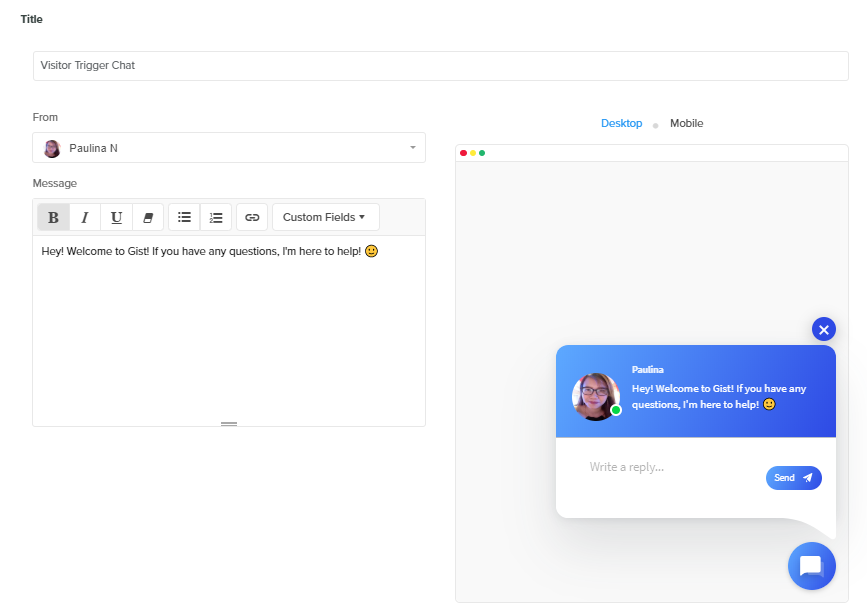 We've set up a default text but you can change it to reflect your tone and style.
---
Need Help?
If you have any questions, please start a Live Chat. Just "Click" on the Chat Icon in the lower right corner to talk with our support team.
Did this answer your question?